Ely Area Attractions
Although you may want to spend your vacation time at the lake relaxing, there are interesting activities awaiting you within just a few miles.  Here are some.
International Wolf Center
Ely is home to the International Wolf Center's flagship interpretive facility, a multi-million dollar complex that examines one of the most elusive and misunderstood animals in the world. The Center is just four miles from Pine Point, and is "a must" for Ely area visitors!
The International Wolf Center is one of the world's leading organizations dedicated to educating people about wolves. The organization is committed to advancing the survival of wolf populations by teaching about wolves, their relationship to wild lands, and the human role in their future
Center visitors learn about the natural history of wolves by touring the "Wolves and Humans" exhibit and observing the resident pack of three Eastern Grey Timberwolves and two Artic Wolf yearlings. Program participants can go on evening howling expeditions, or track wolves like researchers do.
Videos, talks, demonstrations, family day programs and other adventures round out your visit to the International Wolf Center.
Do You Feel Lucky?
Well, have we got a spot for you! Fortune Bay Resort Casino is where you can change nickels into $100s, and singles into $1,000s! Now, we did say "can", not "will". There is a certain amount of risk involved … but just as certainly … there's a whole lot of fun involved, too!
Fortune Bay Casino is more than a fabulous luxury hotel, action-packed casino, 18-hole world-class golf course, full-service marina, rustic RV park, complete conference and banquet center, and award-winning heritage center. It's an escape from the ordinary… where you can stay, play, relax, retreat or meet… in a picturesque setting on the shores of lovely Lake Vermilion, surrounded by the wild, pristine beauty of Minnesota's Northwoods.
The casino is owned and operated by the Bois Forte Band of the Chippewa Tribe, and is a quick 25-minute drive from your cabin. And after your visit take your winnings (or your last dollar) and visit the "Y Store" just as you turn back on to Highway 169 heading for Ely.
They have some of the best ice cream cones around … perfect to cool down a hot streak or ease a bruised ego.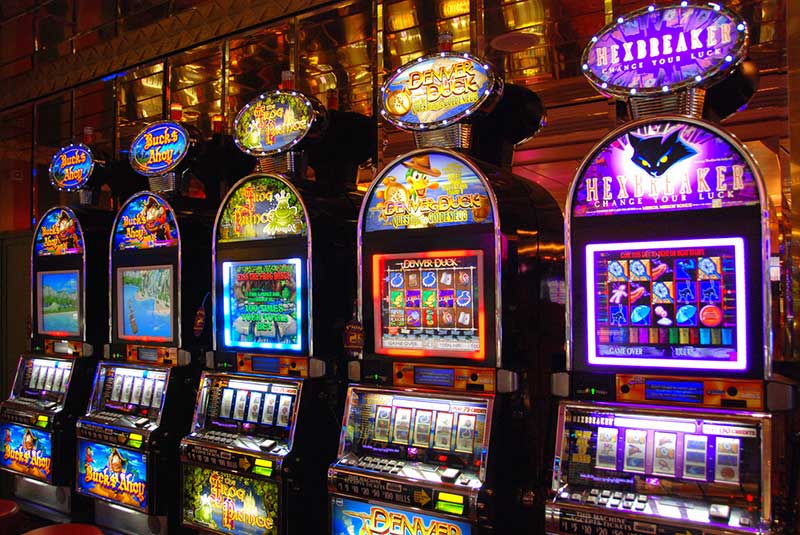 Lets Go Underground!
About a half-hour from Ely is the Tower/Soudan Underground Mine State Park, featuring the area's first and deepest underground iron mine. One-hour guided tours travel 2,400 feet to the bottom of Minnesota's first iron mine. Visitors are then treated to a 3/4 mile ore train ride back to the face of the mine's last producing iron vein.
The park is located on a rugged ridge on the south shore of Lake Vermilion and offers a unique combination of recreational opportunities, including picnicking, hiking, snowmobiling and tours of an underground iron ore mine and high energy physics lab.
Scenic stands of white and Norway pine, mixed with some balsam, aspen and birch, cover the upland areas. The lowlands are dominated by white cedar interspersed with balsam, tamarack, black spruce, ash and muskeg.
Be sure to dress warmly, the mine is a cool 54-degrees year round. This is a perfect activity should you experience a rainy day during your stay at Pine Point Lodge.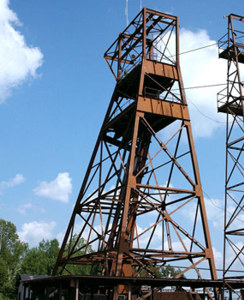 Ely Area History
Visit the Dorothy Molter Museum located in Ely, Minnesota. 
Nestled in a quiet grove of pines, just outside of Ely, Minnesota, are the cabins and museum of one of the northwoods dearest and most colorful individuals, Dorothy Molter. Some remember her fondly as the "Root Beer Lady" while others recall her as the "Nightingale of the Wilderness" or simply, Dorothy.
Dorothy carved out her legacy in the Boundary Waters Canoe Area Wilderness (BWCAW) located within the Quetico-Superior National Forest. Dorothy lived on the Isle of Pines on Knife Lake for more than 56 years where she paddled, hiked, fished, and snow shoed this pristine area, until her death in 1986. She was visited by as many as 7,000 people a year.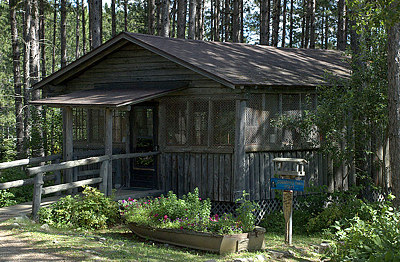 Minnesota Fishing
The lure of Minnesota fishing has a long history. A hundred years ago fishermen took special "fishing trains" from Chicago up to the north country to fish the sky-blue waters. Since then, northern Minnesota has grown into a world recognized destination for quality freshwater fishing. Very few places on earth can boast of TEN SPECIES of sport fish!
The secluded northeastern point of Minnesota (sometimes called "the arrowhead") is a land of outcrops, cliffs, clear-water basins and wild rice streams. It is home to moose, timber wolves, bald eagles . . . and lots of fish! The Ely area is home to big walleye, deep lake trout, burly smallmouth bass, and some of the best northern pike fishing in the country. To this we can add pockets of bluegills, crappie, brook trout, largemouth bass, perch, and, on a few lakes, splake.
Just about every guest here at Pine Point Lodge brings a fishing rod. But, for about half of these folks, fishing is just ONE of the things they want to do during their stay. They want to go out on our 19-mile chain of lakes, bait a hook or attach a lure, and catch some fish. They usually come back with a few walleye, a northern pike or two, and a couple of smallmouth bass. Then it's off to the fish house to fillet them up, then back to the cabin for a fresh fish-fry. Sometimes a couple of cabins will get together for a spur-of-the-moment group cookout; the fishermen bring the main course, and the non-fishermen supply the salad and dessert.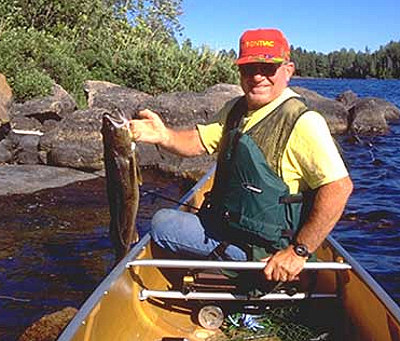 Ely Area Golfing
Golf courses in Minnesota are not built in defiance of the natural environment, but rather in celebration of it. The difference is both dramatic and spectacular. Shoot a roll of film on most links, and half of your photos will be post card quality. Plush green fairways sculpted through pristine national forests. Rolling terrain and undulating greens. Unique landscaping. Shimmering blue lakes under cobalt blue skies.
n the courses in the Ely area, you will find Nature magnified. Experience total isolation and natural beauty on meticulously manicured tees, fairways, and greens. A unique and sometimes hard-to-believe combination. Golf here is a walk in the woods that cannot help but improve a game. If you take your game seriously, you'll find plenty of demanding opportunities to push your skills on championship courses. These courses will challenge golfers who think their shots out, and plan on using every club in the bag.
Shot selection, man-made and natural hazards, pin placement — it all comes into play. And, of course, there are alternate tees for the faint of heart.
An excellent variety of quality courses are within a short drive of Pine Point Lodge. Expect a warm, Minnesota welcome and a friendly commitment to providing the best golf experience to everyone who comes to play. Yes, remember to keep your head down during your swing. But don't forget to look around and soak up the majestic views. There's even the chance that you'll have to let a deer or moose play through.
Nearby, in Ely, is the Ely Golf Club, a nine-hole course where you can watch pileated woodpeckers while you swing.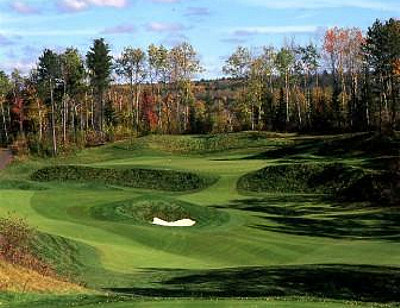 The crown jewel of the Ely area golf courses is Giants Ridge, about 45 minutes away in Biwabik. Two courses, masterfully sculpted out of the rugged beauty of the Superior National Forest, Giants Ridge offers the ultimate expression of what a golf course can be. As the photo on the left clearly shows, "The Ridge" delivers the challenge golfers seek in a top-quality course.
Another fabulous course is The Wilderness at Fortune Bay Resort Casino. The Wilderness offers spectacular panoramic views from the shores of the magnificent Lake Vermilion. Wrapped around picturesque Minnesota woodlands, which include majestic white and red pines, thick evergreens and dramatic rock outcroppings, the challenging course is as visually stimulating as it is enjoyable to play, making it a true golfer's dream. The Wilderness has received several recognitions from highly familiar publications. Golf Magazine named The Wilderness as one of the "Best New Courses to Play." Travel & Leisure Golf recognized The Wilderness as a "2004 Best New Public/Resort Courses." And more recently GolfWeek listed The Wilderness to its Top 40 list. Designed by renowned architect Jeffery D. Brauer, The Wilderness measures approximately 7,207 yards from the back tees and is a long hitter's dream, while also catering to golfers of all skill levels by offering four additional sets of tees. In addition, all carts at The Wilderness come equipped with a GPS system designed to maintain a sufficient pace of play and enhance the experience of those playing the course for the first time.
Canoe Country out Our Back Door
The Boundary Waters Canoe Area Wilderness, part of the Superior National Forest, has been "the canoe country" for hundreds, perhaps thousands, of years, ever since the Lakota Sioux woodland Indians called this region home. They discovered for themselves the craft of building lightweight canoes from the bark of native birch trees. Over the centuries, Indians, explorers, fur trappers, voyageurs, and now tourists have paddled along the nearly infinite web of waterways, portaging their canoes from one lake or stream to another. These lands and lakes were set aside back in the early 70's to be protected under the National Wilderness Preservation System.
It is now a land without houses, without roads, where, with the exception of a few specially identified lakes, outboard motors are not allowed. It is here in this unique lakeland wilderness that progress not measured by a clock or miles, but with the firm bite of a paddle in clear water. The challenges here are the weight of a canoe and pack on your shoulders. Here in the quiet surroundings, your stealth skills can allow you to photograph moose, eagles, and loons. And the fishing … let's just call it at its best! While none of our area lakes even come close to being "over fished", the protected lakes within the BWCA receive little pressure … and then it is mostly catch and release.
There are two different ways to experience the Boundary Waters:
DAY TRIPS: If you're interested in exploring or fishing these special waterways, but don't want to camp, Pine Point can supply a canoe for day trip use. Paddle directly from the the resort docks to the Kawishiwi River just a mile-and-a-half away, or we can drive you to an outlying landing for a day's paddling back to your cabin.
OVERNIGHT: For the more adventurous, an overnight experience might be more to your liking. Pine Point's sister company (North Country Canoe Outfitters) can take care of any outfitting needs you may possibly have. Trips can be arranged at a special discounted rate when leaving your cabin empty for a night or two during your stay.
Pine Point & North Country often team up to handle "split parties". These are where some members of the group are heading out into the Boundary Waters for a 5-, 6-, or 7-day canoe trip, while the rest of the group stays "back in civilization". These are easy to co-ordinate, and a comprehensive package price can be figured to cover all services. As all of North Country's trips are individually designed for the specific guests involved, any type of trip can be arranged. Routes are crafted based on ability level (from first-timer to advanced veteran), trip goals (fishing, wildlife, solitude, etc.), number of days of trip duration, and amount of travel desired. We can even arrange for a remote Canadian fly-in canoe trip into Ontario's Quetico Provincial Park.