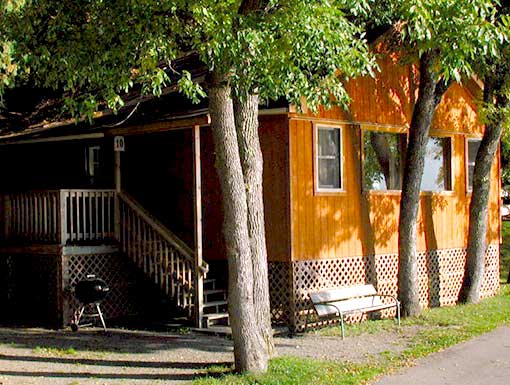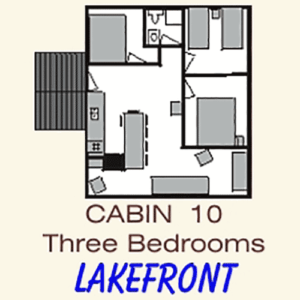 Cabin 10: 3 Bedroom Cabin, Convenient Kitchen, 20 Feet From Lakeshore
Capacity: Up to Six Persons
This cabin is situated directly behind one of our 50′ floating docks and commands a great view of seven miles of White Iron Lake through the picture window next to the oak dining table.
The one rear bedroom has a private entrance from a small, separate deck: great for early morning fishing starts without disturbing the rest of your cabin. Two of the three bedrooms has one double bed, one has two twins.  With two big picture windows, there is no other cabin that has a better view of White Iron Lake.
You'll have a ring-side-seat for watching guests enjoying our over-sized swimming raft, or the landings and takeoffs of an occasional float plane carrying wilderness canoe trip adventurers.
Ample parking for two vehicles (and even a boat trailer, if you like) makes this cabin ideal for two or three couples who wish to share a cabin.
The kitchen/dining area is uniquely laid out for convenient meal preparation and serving. An 8-foot, extra wide dining table is great for leisurely meals, or for evening table games. A separate dry bar gives extra room for spirits & mixes, as well as glassware. As always, all necessary cooking eating utensils are provided along with cups & glasses, plates, bowls, and serving tableware. The microwave oven, gas range and oven, full sized refrigerator, and coffee maker round-out the kitchen compliment.
The large, benched, shaded deck is convenient to the kitchen as you grill-up steaks, burgers, or chicken on your Weber Bar-B-Que cooker. The swimming area is close at hand, along with quick, easy access to the boat supplied with your cabin.