Our Lakefront:  Pine Point Lodge Resort – Ely, Minnesota
Every visit to our lakeshore begins with our water's edge paved driveway . . . no rocks to hurt bare feet, no dust to billow through an open cabin window. But that's just getting there. Our lakeshore is a doorway that opens to the Ely's crown jewel grouping of lakes: The Beautiful White Iron Chain. From our docks, guests can motor or paddle to any of the three major lakes of the cabin: White Iron, Farm, and Garden.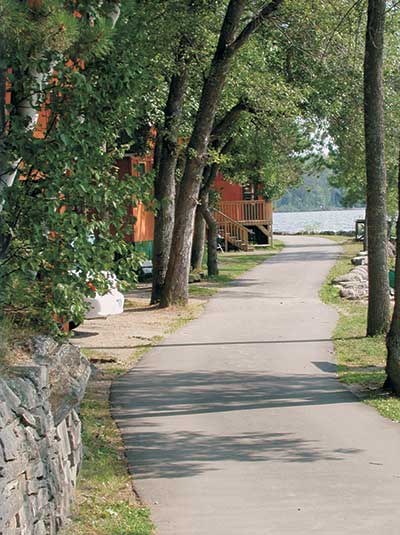 When enjoying these lakes, there is no need for the daily hassle of securing and paying for the Federal Motor-Use Permits needed on some of Ely's other lake chains. Want to experience wilderness without paddling? The fourth lake of our chain (South Farm) lies within the Boundary Waters Canoe Area. Two scenic campsites await your use for a shore lunch of just listening to the silence!
There is hardly a person alive that hasn't heard of Minnesota's "Land Of 10,000 Lakes". And everyone of those people have at one time or another, closed their eyes and pictured themselves jumping into one of those pure northwoods lakes. Well, here at Pine Point Lodge, there is no need to close your eyes … just jump in and feel those daydreams come true. Our sand-bottom swimming area is enjoyed by young guests, and those young-at-heart. After the initial splash, swim out to our 144 square foot raft. No need to struggle up on to the deck; use the aluminum ladder … it's much easier.
Want to just relax in the sun? How about a comfortable, dry spot from which to keep an eye on the "little guys"? We've taken care of that one, too. Every dock has comfortable, secure benches from which you can just soak-up the sun's rays. The swimming area dock has benches that were specifically placed for parents wanting to watch their kids enjoy the lake!
After dinner, try walking out on our 50′ floating docks. At the ends you'll find a T-section just right for a few casts into deeper water. Or, take a seat. While you watch the sun set in front of you, you might just be visited by a beaver, otter, or mink as they start their night's cruising of the White Iron shoreline. Listen for the loons … they'll signal that it's time to turn in for a night's rest.
Most every week guests can see a piece of border waters adventure come to life. Pine Point's sister company, North Country Canoe Outfitters, regularly packs up paddlers and arranges for float planes to launch them deep into the wilderness. Want to grab on to part of their adventure? Just let our office staff know, and we can set up a float plane to fly you and your party over the lakes and forests that make up the greater Ely area. From the deep rumbling throb as the engine starts up, to the skittering splash as the floats touch down on the water at the end of the flight, you'll remember your floatplane scenic flight forever!
And don't forget about venturing out by yourself. Every cabin comes with a 16′ Lund SSV deep hull boat. These quality boats are big enough to provide comfort and safety even if the lake becomes a little rough. But don't be concerned, the White Iron Chain has lakes that point in each direction. If one gets rough, just head over to one of the others; it will probably be smooth as glass. Remember, Pine Point is in the middle of the chain. It's always a short ride home to your cabin.