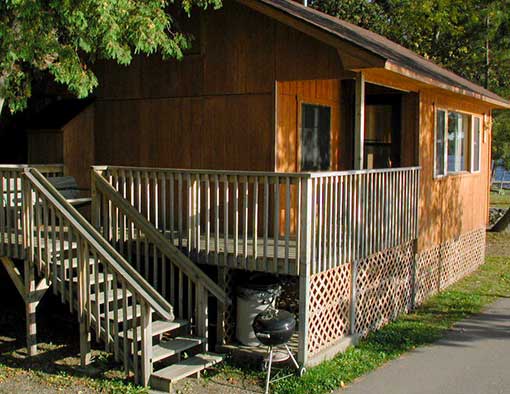 Cabin 9: Two Bedroom Cabin
20 Feet From The Lake
Capacity: Up to Four Persons
Cabin 9 is situated directly in behind one of our 50′ floating docks, commanding a great view of seven miles of White Iron Lake through the picture window next to the oak dining table. This shoreline cabin is situated close enough to the water that an easy cast can put a lure well out in the lake.
The one rear bedroom has a private entrance from a small, separate deck: great for early morning fishing starts without disturbing the rest of your cabin. Each bedroom has one double bed.
As with all of our cabins, the kitchen/dining area is equipted with a full sized refridgerator, a gas range with oven, and a microwave oven. All of the necessary cooking eating utensils are provided, along with a coffee maker, cups and glasses, plates, bowls, and serving tableware.
Enjoy one of Ely's famous summer sunsets as it is reflected from the lake towards your cabin deck. Grill up a few steaks on your Weber Kettle Bar-B-Que to enjoy next to the picture window overlooking the lake. Then, with a little luck, we might have a display of the northern lights to cap off your evening.